DIAGNOSTIC TESTING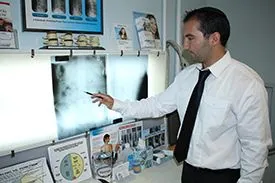 If it is deemed necessary, a referral for x-rays, MRI or CT scan can be made in order to rule out any pathology and give a proper diagnosis. Dr. Edery is one of the few chiropractors in the Los Angeles area who has the availability to utilize Nerve Conduction Studies, Musculoskeletal Ultrasound (MSUS) and Vascular Ultrasound Testing in his offices.
Nerve Conduction (NCV) & Evoked Potentials
NSC studies are a non-invasive way of recording and studying the electrical activity of the brain and nervous system by evaluating action potential of the peripheral nerves and evaluating their ensuing velocities for abnormality. It is able to identify peripheral nerve dysfunction, and measure the intensity of the conduction through the nerves pathway.
Musculoskeletal Ultrasound (MSUS)
MSUS is a non-invasive study that uses high frequency sound waves to create images of the body and provide information about the overall morphology of body structures. The test assists in differentiating soft tissues and can provide information about inflammation in the spine, ligaments, tendons and muscles.
Vascular Ultrasound (VAS)
Vascular ultrasound is the general term for a non-invasive painless test that uses high-frequency sound waves to image blood vessels including arteries and veins. Vascular ultrasound can be used to evaluate:
The blood flow in the arteries in your neck that supply blood to the brain
The blood flow to a newly transplanted organ
Blood flow in the arteries to detect the presence, severity and specific location of a narrowed area of the arteries